You want to choose a fragrance that is not too overpowering for your work colleagues and brand you the 'smelly cologne bloke'. It's a tricky scent choice. A powerful scent choice will make it a struggle for your work colleagues to be close to your desk.
For long hours at the office, the best cologne for work must have fresh notes, particularly citrus scents, as they smell fantastic and offer an invigorating feeling. 
I've tried many colognes in preparation for this article. Reactions from work colleagues have clarified which are best and which to avoid. You need a light scent, fresh but not leaving a strong sillage trail. So, I chose Prada L'Homme L'Eau during office hours. 
You need a more subtle scent, one that won't bother the people sitting next to you at your cubicle. 
Wearing a gourmand scent will let your coworkers know that you're easygoing and down to earth, while an aromatic odor is great if you feel like your boss isn't taking you seriously. 
So you want something that has enough sweetness that won't be offensive, but not so sweet that it's distracting to the surrounding work colleagues. Something in between those two extremes.
So here is your top list of office scents based on what best fits you at work and which contain the most refreshing notes for long working hours.
---

Best Office Cologne Overall – Prada L'Homme L'Eau EDT
Prada L'Homme L'Eau was released in 2016. The fragrance was created by perfumer Daniela Andrier and is citrus aromatic. I often use citrus fragrances in summer perfumes, which are also popular in fall and spring.
Citrus is a crucial note when you choose your best cologne for work. The scent is fresh and light, with notes of neroli and iris that blend seamlessly. Its versatility means you can wear a fresh scent without worrying about overpowering a room.
Amber drops in to round out the composition of Prada L'Homme L'Eau, giving it some depth. A classic base note in men's colognes, amber accord is warm and sensual. 
It's long-lasting and together with the musk, they form a very light base note that keeps the sillage (trail) of this fragrance very close to your body. It smells like a breath of fresh air on a hot summer day.
A little goes a long way here. So, apply sparingly after showering in the morning and you'll be fragrant enough for the whole day. Don't rub it in; instead let your body heat do the work. 
Best office scent for long hours at work
| | |
| --- | --- |
| Top notes: | Neroli, Mandarin Orange, and Cardamom |
| Middle notes: | Iris, Neroli and Orange Blossom |
| Base notes: | White Musk, Vetiver and Amber |
Prada L'Homme Fragrance Notes
---
Best for Summer Days at the Office – L'Eau d'lssey pour Homme
Jacques Cavallier is a French perfumer known for creating "clean" scents that don't smell overpowering. This bottle of L'Eau d'Issey pour Homme has a mix of citrus and floral scents. 
It's not as harsh or strong as other colognes with a flowery scent. It's also an excellent choice for business meetings and job interviews since it's not too overpowering.
The fragrance has notes of lemon, orange and yuzu at the top. The middle notes include nutmeg, saffron and spices, while the bottom notes are musk, sandalwood, vetiver and tobacco. 
A single application lasts for many hours. It's perfect for daytime wear during the summer months because it's a very light and refreshing scent. The top notes are sharp and invigorating, with the middle notes being more woodsy and earthy (less sharp). 
In general, it's similar to aquatic colognes like Cool Water by Davidoff and the more well-known Acqua Di Gio from Armani. 
Best for hotter days while at the office.
| | |
| --- | --- |
| Top notes: | Mandarin, Lemon, Orange and Yuzu |
| Middle notes: | Water Lily, Cinnamon and Nutmeg |
| Base notes: | Sandalwood, Vetiver, Tobacco and Amber |
L'Eau d'lssey Fragrance Notes
---
Best Masculine Scent for Work – Antonio Puig Quorum For Men Eau de Toilette
The nose of Antonio Puig provided a vastly competitive masculine scent. The scent blends woodsy notes for that warmer touch. It was released again in 2011 as a Eau de Toilette. Quorum is a popular men's fragrance worn by top celebrities, including David Hasselhoff and Antonio Banderas. 
This aromatic fragrance features a fresh opening with citrus-aromatic scents including lemon mingling with the dry tobacco leaf base notes. The base tones are woody thanks to the sandalwood and oakmoss providing a subtle warmth to the composition.
An ideal choice for men who want to make a bold statement without overpowering those around them.
It isn't overwhelming at all. This would be great for someone who is sensitive to strong fragrances or with sensitive skin or acne prone skin because it won't cause irritation.
Like this cologne choice? Puig also makes several other popular colognes besides Quorum, including XS for Men and Agua Brava. 
Best daytime masculine scent for work.
| | |
| --- | --- |
| Top notes: | Lemon, Grapefruit, Bergamot and Mandarin Orange |
| Middle notes: | Carnation and Jasmine |
| Base notes: | Cedar, Amber, Leather, Tobacco, Oakmoss and Sandalwood |
Antonio Puid Quorum Fragrance Notes
---
Best Selling Office Scent – Eau Sauvage – A Dior Classic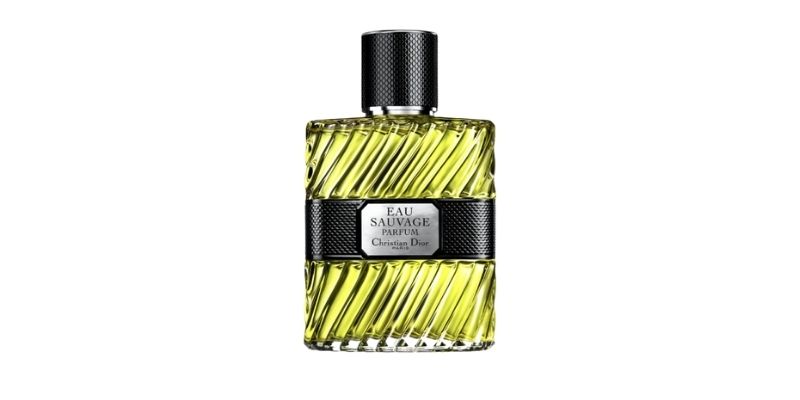 Edmond Roudnitska and Paul Vacher launched Dior Eau Sauvage for men in 1966. Recommended for casual wear, it's a versatile fragrance that can be worn day or night during any season of the year. 
The bergamot and lemon give it a freshness similar to Acqua di Parma Colonia or 4711 Original Eau de Cologne. The rosemary and basil give it a savory quality similar to the original Old Spice. The combination is not overpowering for the office.
The vetiver is prominent – in fact it's more noticeable than in many other vetiver fragrances out there – and gives Eau Sauvage an aromatic edge over 4711 Original, for example. Finally, we come to oakmoss which softens any harsh edges left by the other components of this fragrance.
The first spritz of fragrance onto your skin will last for hours. Once smelled, breathe in again to pick up on the harmonious blend.
Patchouli is a very common note used in many fragrances due to how it can "fix" or make other scents last longer on your skin. Vetiver gives Eau Sauvage for Men its smoky musk character.
Best-selling fragrance for all ages.
| | |
| --- | --- |
| Top notes: | Basil, Bergamot, Cumin, Rosemary, Lemon and Lavender |
| Middle notes: | Jasmine, Coriander, Patchouli, Rose and Sandalwood |
| Base notes: | Amber, Oakmoss, Musk and Vetiver |
Eau Sauvage Fragrance Notes
---
Best Fall-Ready Cologne – Hugo Boss Bottled Spray
Hugo Boss Bottled is inspired by the urban lifestyle of a modern man, and dedicated to a man who is the embodiment of the modern era – dynamic, confident and charismatic. It represents the freshness and freedom of a man who enjoys life to its fullest. Annick Menardo created the fragrance in 1998. 
This aromatic-fougere fragrance opens with sparkling top notes of apple and citrus fruits, which are complemented by a heart that combines lavender and cinnamon. 
The fragrance is subtle yet distinctive, less heavy for work or casual gatherings. It lasts all day long, which makes it an excellent choice when choosing the best cologne for work.
Expect to feel warm base notes from a blend of vetiver, musk, cedarwood and sandalwood. This fragrance is excellent for evening wear during the fall and winter months because of its warmth.
Hugo Boss Bottled is for the urban man with classical taste, who cares about his appearance and wants to dress well.
Best for the colder months through Fall/Winter.
| | |
| --- | --- |
| Top notes: | Apple, Bergamot, Oakmoss, Geranium, Lemon and Plum |
| Middle notes: | Mahogany, Cinnamon, Lavender and Clove |
| Base notes: | Vanilla, Cedar, Sandalwood, Olive Tree and Vetiver |
Boss Bottled Fragrance Notes
---
Best Long Lasting Scent at Work – Burberry Touch for Men Eau de Toilette
You'll know Burberry Touch for Men Eau de Toilette when you smell it. First released in 2000 as a casual, masculine fragrance to accompany the label's runway collection, I do appreciate the delicately powerful scent for its fresh opening notes of violet leaf. 
At the heart, honeysuckle, white lily and white pepper add floral touches to an overall woody scent base of Virginia cedarwood and vetiver. It's no surprise that this is one of Burberry's most popular fragrances—it smells like a sunny day in London after a summer storm has passed. 
It's clean with top notes of cardinal flower and fresh cut grass; it turns sensual with base notes of white musk and vanilla bean. One spray is enough for the day. It's for the man who wants to boost natural charisma throughout the working day and exude some extra charm as a leader.
Read our reviews on other popular Burberry colognes too.
Best for long hours at work
| | |
| --- | --- |
| Top notes: | Violet Leaves, Tangerine and Artemisia |
| Middle notes: | Nutmeg, Cedar, White Pepper and Lily |
| Base notes: | White Musk, Tonka Beans, Cedarwood and Vetiver |
Burberry Touch Fragrance Notes
---
Best for All Seasons at Work – YSL Opium for Men
YSL, or Yves Saint Laurent, began in 1961 under the entrepreneurial eye of French designer Yves Henri Donat Mathieu-Saint-Laurent. In 1993, they launched their first men's fragrance: Jazz. Since then, they have released several others, including M7 (2002), La Nuit de L'Homme (2009), and L'Homme Libre (2011).
YSL Opium is a very balanced scent that fades down to a nice woody vanilla musk. I pick up the clove notes from afar. Others seem to pick up more of the citrus. I found the scent very versatile and suitable for all seasons.
The Top Notes of YSL Opium for Men are bergamot, artemisia and star anise. This combination of herbal and citrus notes gives the fragrance a fresh and clean opening that is distinctive from the more common citrus accords found on other men's fragrances. 
If you like the notes of Opium for Men, you might also want to sample some other popular fragrances with similar notes: Dior Homme Intense Fougère Platine (also has pepper) and Acqua di Parma Colonia Essenza (also has bergamot).
If you like a blend of woody and oriental scents, and want a fragrance that can be applied at any time, this is for you.
Best for work hours throughout the year.
| | |
| --- | --- |
| Top notes: | Bergamot, Artemisia and Star Anise |
| Middle notes: | Carnation, Cinnamon, Pepper and Jasmine |
| Base notes: | Bourbon, Vanilla, Cedar and Patchouli |
YSL Opium Fragrance Notes
---
Most Portable Option for the Office – Giorgio Armani Acqua Di Giò Profumo EDP
Acqua Di Giò Profumo brings new layers of intensity to the signature fragrance by master perfumers; Alberto Morillas and Jacques Cavallier Belletrud. The fragrance hit it big when the Italian fashion magazine Panorama featured Giorgio wearing the scent on its cover.
The 50ml size is the smallest bottle available in Acqua Di Giò Profumo, making it the most portable best cologne for work option and easy to carry around in your suit pockets if you want another spray during work hours.
The smooth fragrance delivers a delicate floral fragrance that makes it suitable when close to work colleagues. Aquatic and woody, Acqua Di Giò Profumo is a quintessential Mediterranean fragrance.
At the heart lies rosemary, which blends with geranium yet never overpower it. A combination of cedarwood, patchouli and vetiver rounds the fragrance off to create an ultimate masculine finish. 
Best for carrying around with you during office hours.
| | |
| --- | --- |
| Top notes: | Bergamot and Marine Notes |
| Middle notes: | Geranium, Sage and Rosemary |
| Base notes: | Patchouli and Incense |
Acqua Di Gio Profumo Fragrance Notes
---
Best for Commuters – Artisan by John Varvatos Eau de Toilette
The creator of Artisan EDT's scent by John Varvatos is Mexican senior perfumer Rodrigo Flores-Roux and it hit the shelves in 2009. He also worked on scents like Rive Gauche and Angel Men. 
If you're the creative type and you know it, you'll appreciate Artisan. The citrus refreshes and is light enough to wear, and won't overwhelm your coworkers if you decide to wear it to work on Monday morning. 
This fragrance starts with a blast of citrusy scents, which can overpower at first. Spray about an hour before you head to work to allow the scent to settle down.
When it settles, it provides a soft green fragrance that blends nicely with your body's natural smells. It best suits those who have to commute to work as it needs the time to settle.
It's a scent that's as unique and original as you are, with layered notes of floral and fruity essences. Its truly special handmade bottle was inspired by traditional glassblowers' tools. How cool is that?
Best for commuters who want a long-lasting fragrance once at work
| | |
| --- | --- |
| Top notes: | Orange, Mandarin and Clementine |
| Middle notes: | Coriander, Clary Sage and Lavender |
| Base notes: | Fir Balsam, Vetiver and Amber |
Artisan by John Varvatos Fragrance Notes
---
Best for the Busy Manager – Jimmy Choo Urban Hero Eau de Toilette
Jimmy Choo Urban Hero Eau de Toilette is a woody fragrance. The signature bottle in this collection mimics the shape of a lighter to capture the spirit of adventure. It comes in a gorgeous glass bottle covered in embossed metal gilding, which also serves to highlight how pretty this fragrance really is.
Fierce, sophisticated and robustly masculine, this scent from Jimmy Choo will seize your imagination. Fresh black pepper and lemon caviar are followed by the smooth notes of vetiver and the powdery-softness of rosewood. A base made with leather and amber will excite the senses.  
This Jimmy Choo perfume is the epitome of the brand's signature style. The fragrance possesses an attitude that combines polish with confidence, for classic luxury, making it both sophisticated and playful at once.
Jimmy Choo Urban Hero EDT is for the confident manager who spends most of his work hours at meetings and wants to inspire his employees.
Best for the busy manager who wants to inspire and taste luxury
| | |
| --- | --- |
| Top notes: | Black Pepper and Lemon |
| Middle notes: | Vetiver and Rosewood |
| Base notes: | Leather, Amber, Sandalwood and Musk |
Jimmy Choo Urban Hero Fragrance Notes
---
FAQ: What You Should Know About Office-Safe Colognes
---
Time to choose the perfect cologne for those office hours.
I chose Prada L'Homme L'Eau as the best office cologne, with its citrusy light scent and moderate sillage for those long office hours. It has a very pleasant, yet not overpowering scent.
Prada L'Homme L'Eau is the perfect option for your everyday selection. This fragrance offers a safe and reliable blend of green citrus and florals with a dash of spice.
It feels just modern enough to keep things interesting during the day, but won't offend any co-workers or clients you meet.
There is a perfect scent for everyone wanting to pinpoint the best cologne for work. Choose your scent for work and stay refreshed throughout your busy working day.