Consider cologne to be an extension of your outfit. It's another opportunity to express yourself, so you'll want something that works with your mood and environment.
The best summer colognes incorporate light, airy scents like citrus notes, fruits, florals, and aquatic notes.
These softer elements must be carefully balanced against stiffer notes like woods and earthy tones to prevent them from becoming genderless or bland. We still want something that implies masculinity, after all.
Summer Citrus
Fleur d'Oranger 27 by Le Labo
Bright and breezy, backed with juicy fruits and sophisticated florals.
A unique representation with juicy Oranges leading the way.
Available at:
Best summer scent overall
Green Irish Tweed by Creed
Top-tier quality, beautifully balanced freshness.
Lasts a long time – you'll get 10+ hours, no problem.
Available at:
Our top budget pick
St. Bart's by Tommy Bahama
For the price, this easy-going cologne is an absolute steal.
Perfect beach vibes that make me think of coconut mojitos.
Available at:
When a cologne is designed for a season, it's formulated with the temperature in mind. Cologne has a harder time projecting in cooler weather, and that's worth remembering.
If you simply go for a one-size-fits-all approach, you'll find that your darker winter colognes become overpowering in the summer months, and feel a little like wearing a sweater on sunny days. You need to pick the right tool for the right job.
Best Summer Fragrances For Men
Green Irish Tweed by Creed – Best Luxury Summer Fragrance
Put it this way: Green Irish Tweed can count Prince Charles and George Clooney amongst its fans. Not too shabby.
This mature fragrance is perfect for projecting sophisticated, measured confidence. I'd recommend it to Gents in their mid to late thirties who want something natural smelling and authoritative.
It draws upon the rolling green fields of the Irish countryside to conjure a fragrance that is simultaneously energizing and mature. It's full of life, packed to the brim with lush fern and grassy notes.
The top notes of zippy lemon and pricky pink pepper are mellowed by a more grounded base of sandalwood and amber. It's a perfect balance between freshness and substance; exactly what I look for in a functional office scent.
If you're put off by the hefty price tag, it's important to remember that just a couple of sprays of Green Irish Tweed will last you well into the evening, so a bottle ends up lasting a long time.
Projection is in the arms-length sweet spot, where you'll get the credit you deserve without disrupting a room when you enter.
| | |
| --- | --- |
| Top Notes: | Iris, Pink Pepper, and Lemon Verbena |
| Heart Note: | Violet |
| Base Notes: | Sandalwood and Ambergris |
Green Irish Tweed Creed Fragrance Notes
---
Fleur d'Oranger 27 by Le Labo – Best Fruity Summer Fragrance
Le Labo scents are usually gender neutral, which works fairly well for a summery scent that is designed to conjure a lighter, airy sense.
From the first sniff, your nose is bursting with fresh green orange blossom. It's sweet, but in a very natural way that reminds me of sitting underneath a tree bristling with ripe oranges, catching a whiff of the rind as the breeze passes through.
These juicy oranges are paired with light floral notes like jasmine and neroli that make the cologne smell fresh and clean, The orange blossom is certainly still the main event, and the floral touches don't go far enough to undermine the masculinity of the wearer.
It's an incredibly natural smelling representation of an underutilized accord that is fizzing with energy. You can't help but feel like an optimist when you wear Fleur d'Oranger 27.
My only grumble is that the longevity could be better. Lasting for 6 hours of meaningful projection is no tragedy, but at this price, you could be forgiven for expecting something closer to 8.
Still, if you don't mind reapplying throughout the day, you'll get your rewards. The quality of the scent is off the charts.
| | |
| --- | --- |
| Top note: | Orange Blossom |
| Middle notes: | Neroli, Bergamot, Jasmine, and Mandarin Orange |
| Base notes: | Musk and Honey |
Fleur d'Oranger 27 Fragrance Notes
---
Tommy Bahama St. Bart's – Best Budget Summer Fragrance
St. Bart is an excellent pick if you're looking for a summer signature scent but don't have a huge budget. It is a solid and fun blend of lime and liquor, reminiscent of cocktails on the beach and guided by a thread of creamy coconut throughout.
There's also a salty quality that reminds me of the sea. This is a cologne destined for the beach and would be an ideal cheapie to throw in your bag before jetting off on holiday.
Just be aware that as a budget cologne, you'll do well getting 6 or so hours out of St Barts. For best results, give yourself an extra spritz whenever you drop by your hotel to freshen up.
A lot of people draw comparisons between St Barts and Creed's Virgin Mountain Water, and I can see the similarities. If you're a fan of VMW, chances are you'll enjoy St Barts too, but obviously, neither the balance and longevity quite match up to the $300 Creed option.
But St Barts is just $20, which is absolutely insane value for money. The lime and coconut smell authentic and vivid, and you'll struggle to find such an energizing summers blend for any less.
| | |
| --- | --- |
| Top Notes: | Lime, Coconut, Tequila, and Sea Notes |
| Heart Notes: | Salt, Green Notes, and Coconut |
| Base Notes: | Palm, Vanilla, and Musk |
Tommy Bahama St. Bart's Fragrance Notes
---
Polo Deep Blue – Best Summer Fragrance for Compliment Collecting
One of my favorite notes in the world of fragrance is mango, but it tends to see relatively little action. Polo Deep Blue is a welcome exception.
It's the main event here, rich and juicy, complemented by refreshing grapefruit and bergamot. It's an easy-going blend that feels light and carefree but still has enough maturity to be taken seriously. It's perfect for casual drinks or dining and works for most things roughly "polo shirt level" of formality.
It's a genuine crowdpleaser that I've had a handful of people ask me about, which is pretty remarkable considering I only really wear it on those rare, abnormally hot days.
Deep Blue is not the most complicated fragrance in the world, but there are little hints of cypress and sage that add enough herbality to keep things interesting.
But first and foremost, this is a natural smelling reflection of a delicious mango accord – and to be honest, that's good enough for me. The dry down brings some musky to the fore which enhances the masculinity, but that's pretty much the extent of any aggressive qualities you could hope to find.
Longevity is also very satisfactory at 7 – 9 hours of overall scent, and you're projecting pretty positively for the first 3 or 4. You can't really expect any better for an Eau de Parfum at this price point, and the fact I would choose it over plenty of mid-range summer colognes should be a testament to its success.
| | |
| --- | --- |
| Top Notes: | Bergamot, Grapefruit, and Mango |
| Heart Notes: | Sage, Geranium, and Cypress |
| Base Notes: | Aquatic Notes, Patchouli, and Musk |
Polo Deep Blue Fragrance Notes
---
L'Eau d'lssey pour Homme – Best Summer Fragrance for Job Interviews
L'Eau d'Issey scents are notoriously clean-smelling and pour Homme might be the best example of that. The floral citrus notes combo is fresh, fresh, fresh.
In the opening, you'll meet zesty orange and lemon, topped with a touch of yuzu flower, Then, things become a little more masculine through a dry down of nutmeg, spices, and musky woods.
Due to its subtle nature, I'd recommend L'Eau d'Issey pour Homme for situations like job interviews or business meetings.
Just keep in mind that this is a concentrated cologne. Stay safe and just use a couple of sprays to add a touch of brightness to the room.
| | |
| --- | --- |
| Top notes: | Mandarin, Lemon, Orange, and Yuzu |
| Heart notes: | Water Lily, Cinnamon, and Nutmeg |
| Base notes: | Sandalwood, Vetiver, Tobacco, and Amber |
L'Eau d'lssey pour Homme Fragrance Notes
---
Bvlgari Aqua Amara – Best Summer Cologne for the Office
Aqua Amara brings you the Mediterranean in a bottle. Citrus notes from Sicilian mandarin combine with aquatics to produce a classy fragrance that will keep you energized throughout the whole day.
Drawing on the Italian lifestyle, Aqua Amara is best for warm temperatures – ideally by the beach. It conjures images of a blazing hot coastal walk, with trees swaying in the salty sea air.
Even the dry down is relatively light, drawing upon pachouli for its earthiness rather than deeper woodsy accords.
It's a great choice for the office at the height of summer, harnessing bright and fresh scents without being overly flamboyant or obnoxious. It implies a sense of maturity and confidence that would be useful to a young professional who wants to make a good first impression rather than a dramatic statement.
I'd recommend it as an excellent summer cologne, but make sure that's your plan. It's not particularly versatile, and I don't see Aqua Amara as something that would make much sense in average weather.
| | |
| --- | --- |
| Top Notes: | Mandarin |
| Heart Notes: | Neroli |
| Base Notes: | Patchouli |
Bvlgari Aqua Amara Fragrance Notes
---
Davidoff Cool Water- Best Retro Summer Fragrance
Sandalwood is an excellent summer accord, and Cool Water is the proverbial king of sandalwood.
I find the accord revitalizing on a warm day, and it's a good opportunity to find a light cologne focused around a more masculine accord than your typical light fruits and flowers.
Davidoff Cool Water
$41.88
$27.99 ($4.18 / Ounce)
A mature sandalwood cologne with an aquatic, clean and fresh feeling.
Touches of lavender and rosemary help round out the bitter, dry sandalwood for a well-balanced fragrance.
Amazon here
Full Review Here
We earn a commission if you make a purchase, at no additional cost to you.
12/04/2023 12:24 am GMT
This throwback fragrance was trendy in the 80s and carries through that nostalgic vibe today in an incredibly clean-smelling fragrance.
A spray or two conjures the image of a pristine white t-shirt and shorts. Uncomplicated, but ultimately timeless and stylish. Sometimes, less is more. Cool Water is not an exercise in reinventing the wheel.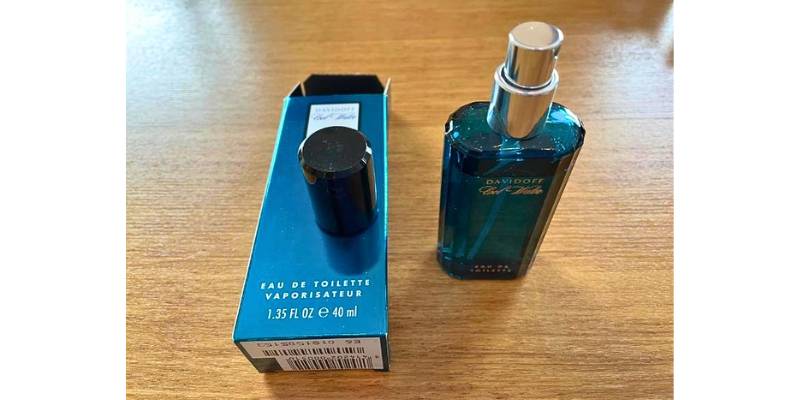 You can imagine wearing Cool Water while enjoying a quick bite to eat on the pier, fuelling up for another round of dancing in the mild early evening.
The clean, laundry-detergent fresh effect is perfect for casual wear, with powdery oakmoss masculinity in the base. Touches of herbs like lavender and rosemary provide a little green vitality throughout the dry-down, resulting in a retro masterclass.
If you're new to fragrances, Davidoff Cool Water really is a must-try. It's one of the most popular Eau de Toilettes of all time and is a worthy signature scent contender if you're a Sandalwood aficionado.
| | |
| --- | --- |
| Top Notes: | Sea water, Lavender, Mint, Green Notes, Rosemary, Calone, and Coriander |
| Heart Notes: | Sandalwood, Neroli, Geranium, and Jasmine |
| Base Notes: | Musk, Tobacco, Oakmoss, Cedar, and Amber |
Davidoff Cool Water Fragrance Notes
---
Hollister SoCal- Best Summer Fragrance for a Date
Hollister SoCal is the perfect summer cologne for a beach date. It's laid-back, tropical, and spells fun and freedom.
Everyone seems to love it- especially girls. This sweet, creamy, woody blend is a hit and collects compliments wherever I go.
The scent opens with a blast of coconut and melon, before shifting gear to vanilla sweetness mixed with a coniferous pine. After a few hours, you arrive at a sexy, woody base with a deep and earthy scent of dried driftwood, heated by sunny days.
It's musky and sensual, with creamy woodiness. Unaggressive, but decidedly masculine, too.
Plus, it's incredible value for money. If I tried SoCal blind, I'd probably guess it was five times the price.
| | |
| --- | --- |
| Top Notes: | Melon, Coconut, Lemon, and Lime |
| Heart Notes: | Pine, Cedar, and Vanilla Bean |
| Base Notes: | Driftwood and White Musk |
Hollister SoCal Fragrance Notes
---
Silver Water and Birch – Most Relaxing Summer Fragrance
Silver Water and Birch is all about taking a second to chill. It would suit a Gent who is all about effortless style, with lighter notes that suggest you're in control, rather than clanging passersby round the head with unbridled bravado.
For the first few hours, there's a tropical, aquatic sense that makes me think of a desert island. A touch of coconut meets oakmoss and the whole world just seems to melt away. By hour 5, the woods in the base start to reveal themselves, stiffening up the masculinity and bringing us back down to earth.
I love wearing it for casual outings where I just need a little dash of serenity. It always seems to pick up compliments in the coffee shop, so I must be doing something right.
| | |
| --- | --- |
| Top Notes: | Aquatic Notes |
| Heart Notes: | Oakmoss |
| Base Notes: | Birch and Woody Notes |
Silver Water and Birch Fragrance Notes
---
Runners Up – Best Summer Cologne for Men
If you've checked out our best picks and are still looking for something a little more specific, I've gathered a few wildcards for you to consider
Hollister Wave – Summer Cologne for Young Men
With average sillage and longevity and a scent that some have said is not masculine enough (women have also used this fragrance!) Curve Wave for Men might be suited for those young men in grade school or entering college.
Wave is an easy-wearing cologne destined for the coast. It's a fresh, zesty, and vibrant blend for a Gent in his early to mid-twenties.
It's youthful and fun-loving, but not juvenile by any stretch. Think "white t-shirt and shorts" sort of vibe- but the guy is a chiseled surfer.
It's informal, perfect for everyday wear or casual events, day or night. Not a seductive scent, but sure to collect compliments across the board regardless.
The start is a fairly unique note of bamboo, followed by a pleasant soapy dry down with shades of neroli. There's citrus here, but it's not sharp.
The whole process is smooth and relaxing. There's enough complexity to make it a worthwhile fragrance, but we're keeping things simple here for sure. Wave is all about easy-breezy good times- not trying to reinvent the wheel.
These top notes last throughout the lifetime of the fragrance. It's linear, rather than evolving. The whole ride is fresh and clean. There's wood in the base, but Wave doesn't just degenerate into a generic woody musk-like plenty of other men's perfumes.
It maintains its freshness throughout, remaining energetic throughout its 6-hour lifetime. The projection is decent but non-intrusive. This is a subtle, and pleasant fragrance that gets noticed but won't knock anyone's head off.
| | |
| --- | --- |
| Top Notes | Yuzu, Bamboo Leaf, Grapefruit |
| Heart Notes | Lavender, Cypress, Neroli |
| Base Notes | Salt, Driftwood, Musk, Tonka Bean |
Hollister Wave Fragrance Notes
---
Versace Blue Jeans – Best Versace Summer Cologne
This fragrance has been around since 1994, albeit reformulated (i.e. the formula has changed over the years), but it still turns up in 'Best Of' cologne lists.
Versace Blue Jeans and summer go hand in hand, denoting a laid-back environment and enjoying the sunny day.
Blue Jeans is a blend of citrus and lavender notes and has a subtle hint of bergamot which adds a fantastic, crisp dimension drying down to a warm, masculine base of vanilla and patchouli.
I suggest spraying on this fragrance after a workout or before a day at the beach.
You may also use Blue Jeans before taking a relaxing walk about town or doing some shopping. The longevity of this cologne is long-lasting, and the sillage is average.
With moderate longevity and sillage, the price is another factor for young men starting their summer cologne collection or buying their first fragrance.
| | |
| --- | --- |
| Top Notes | Citruses, Bergamot, Juniper, Anise, Brazilian Rosewood, Basil |
| Heart Notes | Lavender, Rose, Carnation, Heliotrope, Jasmine, Geranium, Fir, Sage, Lily-of-the-Valley |
| Base Notes | Vanilla, Tonka Bean, Sandalwood, Iris, Musk, Amber, Vetiver, Cedar, Patchouli |
Versace Blue Jeans Fragrance Notes
---
Nautica Voyage – Best Nautica Summer Cologne
The elegant and smooth Nautica Voyage tells the tales of adventurous escapades in a fragrance.
Nautica Voyage
Fruity and sweet with a masculine cedarwood base.
A calming and aquatic scent perfect for casual good vibes in summer.
Amazon Here
Full Review Here
We earn a commission if you make a purchase, at no additional cost to you.
12/04/2023 12:14 am GMT
With a 100ml bottle being just a little over $30, Nautica Voyage is an overall budget-friendly fragrance and a superb choice for men.
The internet hype focuses on its appeal as a cheap scent, though don't be fooled into viewing this as a lower quality. You'll smell the quality as you spray its fruity and sweet, calming cedarwood smell.
Its lasting aquatic scent won't overpower those around you, and one spray will last all day. This is not your choice if you want to wear a strong and sultry smell. It is quite strong for the first 3-4 hours. After that period, it sits on you with a light cedarwood scent. It suits casual days and all budgets, making this my choice for the best Nautica cologne from the review list of 10 colognes here.
Created in 2006 by the famous perfumer Maurice Roucel, Nautica Voyage is filled with green leaves and crisp apples in the top notes, alluring middle notes of mimosa and lotus, and a rich blend of amber, cedarwood, musk, and oakmoss to balance things out in the base notes.
The fragrance works great for all occasions – whether you're having a regular day at work or a date later in the evening.
| | |
| --- | --- |
| Top Notes | Apple, Green Leaves, Lotus |
| Heart Notes | Water Lotus, Mimosa |
| Base Notes | Musk, Cedarwood, Oakmoss, Amber, Marine Notes |
Nautica Voyage Fragrance Notes
---
Curve Wave for Men – Best Curve Summer Cologne
Now enjoy the oceanfront breeze year-round with Curve Wave Cologne Spray. This richly scented summer cologne features heady aromas of citrus, mint, anise, juniper and klek.
When you wear this spicy cologne, you'll effortlessly achieve the refreshing feel of a summer day at the beach—no need to pack a suitcase. Add the luxurious feel of an exotic summer to your life.
The first thing you notice about Curve Wave for Men is the citrus. Citrus notes are the strongest aroma in this cologne, which also possesses a strong mint note. It is a blend that is recommended for daytime use. This timelessly masculine fragrance also smells of mint and juniper.
A spicy heart will charm your senses and match with the aniseed at its base to produce a clean finish. It's an ideal choice for a night out on the town. The fragrance creates a spicy bouquet that combines both refreshing sea air and the memory of a beautiful sunny day.
For men who want to smell great without drawing too much attention to themselves, Wave for Men is the best curve cologne for you.
Curve Wave for Men has moderate intensity, but a short duration. You'll need to reapply frequently, especially as the weather warms. Switch to another cologne once the weather gets chilly.
| | |
| --- | --- |
| Top Notes: | Lemon, Lime and Grapefruit |
| Middle Notes: | Mint, Spice, Aquatic Notes and Juniper |
| Base Notes: | Aniseed |
Curve Wave Fragrance Notes
---
Dolce & Gabbana Light Blue – Best D&G Summer Cologne
Italy, like France, has a reputation of being a romantic country. Dolce & Gabbana's Light Blue gives you a vibe of a casual and breezy summer walk along the beach, with fruity and floral notes that remain masculine.
With a moderate sillage, this fragrance may be intriguing for that man who wants to impress that special lady. Or the man who wants to attract the opposite sex or welcome compliments during a night on the town.
Reports say the smell doesn't last long, albeit the smell is a pleasant one. Others say the cologne works well in warm temperatures.
| | |
| --- | --- |
| Top Notes | Grapefruit, Bergamot, Sicilian Mandarin, Frozen Grapefruit Peel, Juniper |
| Heart Notes | Sichuan Pepper, Rosemary, Rosewood |
| Base Notes | Oakmoss, Musk, Incense |
Dolce and Gabbana Light Blue Fragrance Notes
---
Prada L'Homme Water Splash – Best Prada Summer Cologne
Prada's L'Homme Water Splash is a recent fragrance with moderate longevity released in 2019. A fragrance that one could wear at the office and in casual outings.
Some may get more extended longevity and an insane sillage, but that may depend on skin type or preference.
Others have even thought this cologne had a feminine vibe, with some women using it. However, L'Homme Water Splash still has enough masculine scent to attract male fans.
| | |
| --- | --- |
| Top Notes | Neroli, Mandarin Leaf, Cardamom |
| Heart Notes | Ginger, Iris |
| Base Notes | Amber, Sandalwood, Cedar |
Prada L'Homme Fragrance Notes
---
Acqua di Parma Blu Mediterraneo Fico di Amalfi – Best Mediterranean Summer Cologne
Like Dolce & Gabbana's Light Blue, Acqua di Parma Blu Mediterraneo Fico di Amalfi takes inspiration from Italy.
As part of their Acqua di Parma Blu Mediterraneo line of colognes, Fico di Amalfi gives you the vibe of taking a dip in a beautiful Italian beach and then relaxing with a juicy mandarin orange as you take in the sun.
The smell is excellent, light, with a prominent fig note, but the longevity may not be adequate for some.
As it says in the title for this cologne, this is a unisex fragrance, but that shouldn't put off men looking for a summer-inspired scent that works well in hotter weather.
| | |
| --- | --- |
| Top Notes | Grapefruit, Bergamot, Citron, Lemon |
| Heart Notes | Fig Nectar, Jasmine, Pink Pepper |
| Base Notes | Fig Tree, Cedarwood, Benzoin |
Acqua Di Parma Fragrance Notes
---
Bentley Azure for Men – Best Bentley Summer Cologne
This cologne has longevity, and sillage is a bit above average, inspired by the sea and a ride along the coast.
Some report the smell as unpleasant, not meshing well with warm weather. Others feel it's classy, just like the car.
| | |
| --- | --- |
| Top Notes | Lemon, Pineapple, Bergamot, Tangerine, Violet Leaves |
| Heart Notes | Pimento, Tea Accord, Lavender, Clary Sage |
| Base Notes | Cashmere Wood, Tonka Bean, Orcanox |
Bentley Azure Fragrance Notes
---
F.A.Q – What You Should Know About Summer Colognes
What Makes a Cologne Summery?
Light ad bright notes like citrus, grapefruit, mandarin oranges and other fruits make up various colognes marketed for summer. Additional notes include floral or woody notes. 
These notes combine to give you an aqua or relaxed, cool breeze vibe, which takes you on a journey, in the mood to have fun and get away from it all. 
Can I wear Deodorant and Cologne Together?
You are preparing for that outing that includes walks on the beach during a warm, sunny day with friends or that gal—or wanting to smell fresh after that workout with dabs of deodorant followed by a few sprays of cologne. 
It's doable, wearing both deodorant and cologne. However, you want to wear unscented deodorant with cologne. 
Reason: So the scented deodorant doesn't clash with your fragrance and creates an awkward situation between you and those who pass by you outdoors or indoors. 
Are Summer Colognes Versatile?
A few colognes, as you noticed above, are summer-themed and wearable in business and other formal occasions. 
Still, the idea of these fragrances is to give off a pleasant smell that gives vibes of the ocean, juicy fruit, incredible weather, and relaxation after working for that paycheck. 
---
What to Look For in Summer Colognes- Understanding Fragrances
Notes & Sillage
Colognes listed above have different levels of notes or scents that come together.
The top notes are what you smell after the initial application. The middle or heart notes are what you smell after those top notes have evaporated.
And the base notes are what you smell after those middle or heart notes have evaporated. As your cologne enters the 'dry down' stage, this is the smell.
When looking for a cologne, you want to find consistently pleasant notes as each level evaporates over the day.
Now, What is Sillage?
Sillage (pronounced 'see-yazh') is how the scent broadcasts widely or narrowly. As you smell the levels of these notes, the sillage of the cologne is how others will experience the smell outside your range or the 'intimate' range.
Longevity
There are a few factors that affect the longevity of your cologne:
One is that different skin types affect this longevity. For example, a person with oily skin will have the fragrance last longer than a person with dry skin.
Another factor is the placement of your cologne. The initial thought of applying your fragrance is spraying on your neck, left and right. However, the recommended application is on what we call pulse points: The wrists, back of the earlobes, and the base of the back of your neck.
Since we are talking about summer colognes, the weather will also be effective in longevity. For example, warmer temperatures may bring out the scent and make it last longer.
Now It's Up to You
If you enjoyed this guide, check out some of our other roundups to make sure you're covered for all occasions.